---
Colon Hydrotherapy/Colon Cleanse
The colon cleanse treatment is very simple, pain-free, odorless & no discomfort. Everything is sterilized & disposable. A colonic is the infusion of water into the rectum to cleanse and flush out the colon. It is also called colonic hydrotherapy or colon irrigation. 1 inch of a small tube is inserted in the anal, where warm water and waste passes. It includes a hot stone and oil ab massage during the 45-minute treatment.
No pain, no odor, just relieve and satisfaction. Our Colon holds up to 15 pounds of waste and gases which causes 90% of diseases in our body, therefore, is very important to clean our Colon. Treatment INCLUDES Hot Stone Massage in abdomen during colonic.
---
Fibroblast
Fibroblast non-surgical skin tightening is a revolutionary treatment, a UK and European treatment.
Fibroblast requires no surgery and all that it entails, it works by shrinking excess skin, bags and wrinkles providing results such as eyelid tightening and dramatically reducing hooded eyes. This can be used on many areas of the face such as smoker's lines, fine lines and wrinkles and the neck. A non-laser, non-surgical treatment with natural rejuvenation and instant results – LONG LASTING, INSTANT, AND PERMANENT!!!!!
What end results can I expect?
Eyelids will 'feel' lighter, with the hooded eyelids dramatically reduced, fine lines and wrinkles will smooth out, skin will feel smoother, and reduction in excess folds of skin. You may notice that the application of make-up is easier and has increased longevity too!
---
LED Light Therapy

For the treatment of a wide range of skin conditions including, acne, wound healing, post cosmetic surgery. Initial effects are clearer, brighter and smoother complexion. Later Improvement in tone, clarity and skin smoothness, fine lines and wrinkles, reduce pore size, improve skin tone and texture, and give a vibrant, healthier looking skin. Remove bacteria that causes redness and inflammation of acne, helping to minimize the redness of acne lesions, promoting healing and thus giving clearer and healthier skin.
PRICE BEGINS AT $50 PER TREATMENT
9 treatments over three weeks is recommended.
20 to 30 minutes.
---
Microcurrent
Microcurrent Lifting Facial is a non-surgical, non-invasive cosmetic technique that safely and effectively improves the health and appearance of the skin. Also known as a "Bio-ultimate facelift". It lift the muscle of area treated, face and body can be treated.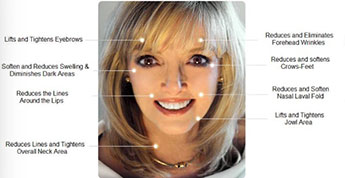 Benefits of this Bio-ultimate facelift:
Clears Acne and Rosacea
Diminishes appearance of fine lines, creases and wrinkles
Evens skin tone
Visibly Tightens, Firms and Tones skin
Reduces and eliminates age spots and superficial scars
Reduces sagging jowl and chin
Improves circulation and lymphatic drainage
Rejuvenates, "Provides a Pink Glow"
Hydrates and revitalizes skin for a softer and smoother feel